One Panel.

ClareOne is the professionally installed touchscreen controller that combines robust, full-featured and do-it-yourself-friendly home automation with professionally monitored security for exceptional convenience and peace-of-mind.

One Platform.
ClareOne pairs with the FusionPro management platform to revolutionize the way security and home technology integrators delight their clients, managing installations from account setup through remote diagnostics and troubleshooting.
Security professionals: Learn more about FusionPro.
One exceptional smart security and smart home experience.

ClareOne connects and simplifies all aspects of the smart home, from security and smart locks to smart lighting, motorized shades, climate control, video cameras, and more.
Wireless audio? Of course! ClareOne controls Sonos® and Denon® HEOS® systems with ease.
Smart. Powerful. Integrated.
The ClareOne smart security and smart home control panel.
DIY-friendly smart control.

ClareOne controls all the home's smart devices, working with hundreds of products that self-discover and auto-install as soon as they are connected to the network.
This adds plug-and-play convenience for the homeowner and reduces truck-rolls for the security integrator.
Security. You have options.


Home security is not a one-size-fits-all proposition. With ClareOne and the FusionPro management platform, security dealers can tailor the system to fit the homeowner's needs – from self-monitored to professionally monitored with two-way voice interaction.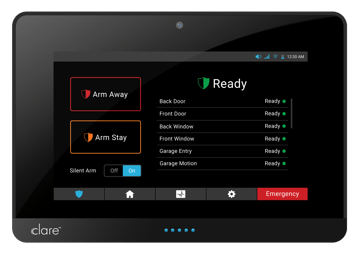 Get in touch with us now for a Free Estimate!
After we get some information from you, we'll set up a time to discuss your project in further detail.
Working Hours
Mon – Fri: 10am – 07pm
Saturday: 10am– 05pm
Sunday: Closed